Teacher Education Admission Process
The Teacher Education program has a competitive admissions process. A limited number of applicants are admitted for Fall Semester and for Spring Semester.
Admission to the Teacher Education Program is a separate process from United Tribes Technical College (UTTC) admission. Being accepted for admissions to UTTC is one thing; being admitted to the Teacher Education program is a separate process.
After you apply for admission to the Teacher Education Program, and complete the necessary requirements, you will be admitted on a provisional basis until you have completed all required course work, field experience, and testing. You will become a fully admitted candidate for licensure at the beginning of your student teaching semester.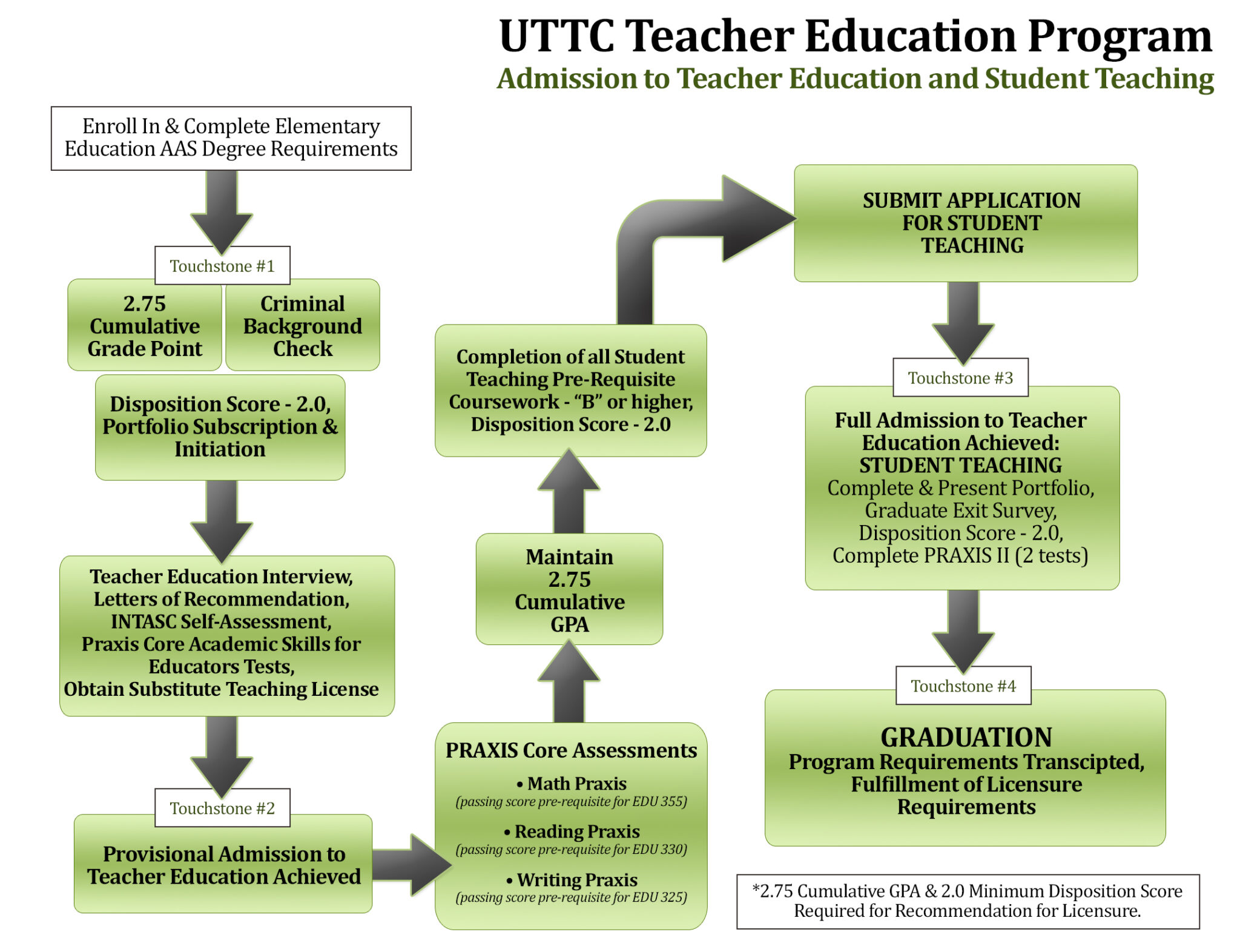 Background Checks
Students enrolled in UTTC's Elementary Education are required to submit to a criminal background check prior to admission to the program. Failure of any portion of a program's required checks may be the basis for barring the student from admission or completion of the program, depending on the findings and based upon the current program requirements.
UTTC's implementation of background checks for students is primarily in response to various affiliates'/agencies' requirements for accepting students for field placements and/or student teaching. These affiliates/agencies include, but are not limited to, K-12 schools, or local, state or federal agency requirements. If an organization requires the checks prior to accepting students, the college must comply.
All candidates complete a Substitute Teaching application, which includes a background check. UTTC reserves the right to request another background check at any point in a student's program. Additionally, a drug screen may be required for students upon admission, annually, randomly, or at the discretion of the pre K-12 school site. Students will be denied admission without successful completion of the background check or if they fail a random drug screen.
Students who are already accepted into the Elementary Education program can be required to participate in a drug screen or background check at any time while they are in the program. A failed background check or drug screen will result in dismissal from the program.
Praxis Exams
Prior to admission in the Elementary Education Program, you must take the Praxis Core Academic Skills for Educator Test (Praxis Core).  The Praxis is a standardized assessment that shows achievement levels in reading, writing, and mathematics.
Provisional Admission
After being provisionally accepted, students are expected to maintain high professional and academic standards. Quality of work and timely progress through the program are two (2) criteria considered as evidence of  professional competence.
Program expectations are as follows:
Provisional admission to specific program is valid for a period of five (5) years. If you have not completed the program within the five-year period, you will be required to seek readmission under the current admission standards.
Professional education credit hours older than five (5) years at the time of program admission may not be counted toward licensure.
Failure to maintain a level of achievement consistent with the program standards required for teacher education admission may result in suspension from the program. Once you are admitted to the program, you must maintain a GPA of 2.75. You cannot receive a grade lower than a B in any professional education course. If you do receive a grade lower than a B, you may repeat any professional education course one (1) time only.
Maintain a 2.0 average on the Teacher Education Professional Dispositions tool.
Documented violations of the UTTC Student Code of Conduct may be considered grounds for suspension or dismissal from the Teacher Education program.
You are admitted on a provisional basis until you begin your student teaching. If you fail to maintain an acceptable level of achievement during this time, corrective action will be taken.
Prerequisites
You may apply to the Teacher Education program if you are currently enrolled in or have completed the following courses:
English composition (grade C or above in ENG 110 and ENG 120 or equivalent);
Quantitative literacy (grade C or above in MTH 103 or quivalent);
Communication proficiancy (grade C or above in COM 110 or quivalent);
Computer information literacy (grade C or above in CSC 101 or equivalent);
And grade C or above in EDU 250 Introduction to Education and PSY 230 Educational Psychology
Transfer Students
If you are planning to transfer to UTTC, you must have your credit hours evaluated by a Teacher Education advisor. The number of credits accepted for transfer cannot exceed 50% of the degree plan. In addition, you must meet the following conditions:
I. Recency Requirement
Professiona education courses completed prior to transferring to the UTTC Teacher Education program are evaluated for currency standards; courses taken more than five (5) years ago will not be accepted.
II. Course Sequence Requirement
The courses in the Teacher Education degree plan were specifically designed to build on the competencies met in a previous course. Because of this, some courses that were taken at other institutions may not be considered for transfer even if the course appears to be similar to one offered by the UTTC Teacher Education program.
III. Clinical Practice (Student Teaching)
Student teaching will be permitted only when the following conditions have been satisfied:
You must be admitted to the UTTC Teacher Education program.
You must complete all professional teacher education course work (or approved equivalents) as required by the Teacher Education program.
You must fulfill UTTC's residency-credit requirements.
You may have only 2's and 3's on your Teacher Education Professional Dispositions tool.
You must submit a student teaching application the semester before you plan to do your student teaching.
You must be registered to take the required Praxis II content exams in your area. These exams should be scheduled prior to beginning student teaching, however, you can take them during your student teaching internship.

The specific test numbers can be found under helpful links on the North Dakota Education Standards & Practices Board website. More information about the specific tests will be available in the Teacher Education department.
Special Accommodations
The Teacher Education department also recognizes specific program and diversity needs of professional educators as well as students with disabilities, and it reservers the right to consider such factors in the admission of teacher candidates.
If you have a disability, you must first register with the Disability Services Coordinator.  The coordinator can be reached at (701) 255-3285, ext. 1516.
Appeal Process
If you wish to appeal an application process decision, you must communicate that request in writing to the Chair of Teacher Education. The written request should include documentation of any migating conditions or circumstances you wish the committee to consider in reviewing its earlier action.
The department faculty will review the circumstances of your case and make recommendations to the Vice President of Academic Affairs who has final authority. The appeal process is outlined in the Teacher Education Student Handbook.